Moderators: cataclysm80, Apocalypse2K, berkumps, dragsamou, mystical_tutor, pp, hammr7, l0qii
Legendary Bel Old Guru
Posts: 141
Joined: Fri Nov 18, 2005 6:15 pm
Location: Europe
Contact:
Think it will be Door of Destinies A.A. Foil.
---
---
Librarities Legend
Posts: 141
Joined: Thu Aug 17, 2006 10:27 pm
Location: AEther
Contact:
Here's a nice view of it if anyone wanted to see it...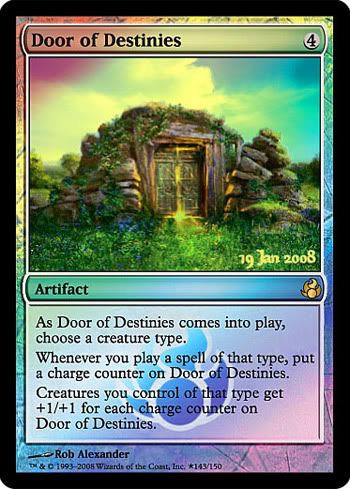 ---
Legendary Boy Of 713
Posts: 238
Joined: Wed Aug 18, 2004 8:07 am
Location: CT - USA
Hmm didn't know The Shire was in the world of MTG
---
---
Librarities Legend
Posts: 1932
Joined: Tue Sep 25, 2007 7:19 am
Location: Belgium
Volcanon wrote:... and it will be the cheapest prerelease card since the Legions one.
Why will it be ? Worth nothing to play ?
---
Who is online
Users browsing this forum: No registered users and 7 guests