I've done some research into Dark Visions. It looks like Visions had a few different color variations.
This happened early in the timeframe when Carta Mundi started printing in the USA (Kingsport Tennessee) in addition to printing at the older facility in Belgium.
Other sets that were made around that same time frame (noteably Mirage) also had slight color variations. That was normal for the time.
At least some cards in Visions have an extra dark variation that is much darker than anything else. These extra dark cards have come to be known as Dark Visions.
How can you identify Dark Visions?
Experience seems to be the best way. Unfortunately, that's to subjective for a positive identification. Comparing to some of the pictures posted below may be helpful.
Some Dark Visions cards have random dots of black ink (splatter?) in the text box area. If the card has this, you can be pretty sure that it's Dark Visions, but Dark Visions also exists without the splatter.
Most of the Dark Visions cards that we see are Artifacts, Multicolor, Green, & Black. Those cards seem to be the easiest to identify.
Red, Blue, & White cards aren't seen as often because they are harder to identify. They do exist, as shown below.
I've made a list of all the Dark Visions cards which I've seen. The list only includes cards that I am certain are Dark Visions.
RARES:
Aku Djinn
Anvil of Bogardan
Breathstealers Crypt
Chronatog
City of Solitude
Corrosion
Diamond Kaleidoscope
Equipoise
Eye of Singularity
Femeref Enchantress
Firestorm Hellkite
Forbidden Ritual
Griffin Canyon
Guiding Spirit
Kaervek's Spite
Katabatic Winds
Kookus
Lichenthrope
Lightning Cloud
Natural Order
Necrosavant
Ogre Enforcer
Phyrexian Mauauder
Pillar Tombs of Aku
Pygmy Hippo
Quirion Druid
Rainbow Efreet
Relentless Assault
Retribution of the Meek
Righteous War
Rowen
Sands of Time
Snake Basket
Squandered Resources
Teferi's Puzzle Box
Teferi's Realm
Undiscovered Paradise
Vampiric Tutor
Viashivan Dragon
Wand of Denial
COMMONS:
Goblin Swine-Rider
Phyrexian Walker
Python
Sisay's Ring
Warthog
Notice that there are no Dark Visions Uncommons listed. I haven't seen any Uncommons that I was certain were Dark Visions. If they existed, wouldn't someone have seen some of them?
Here are pictures of Visions uncut sheets...
Common Sheet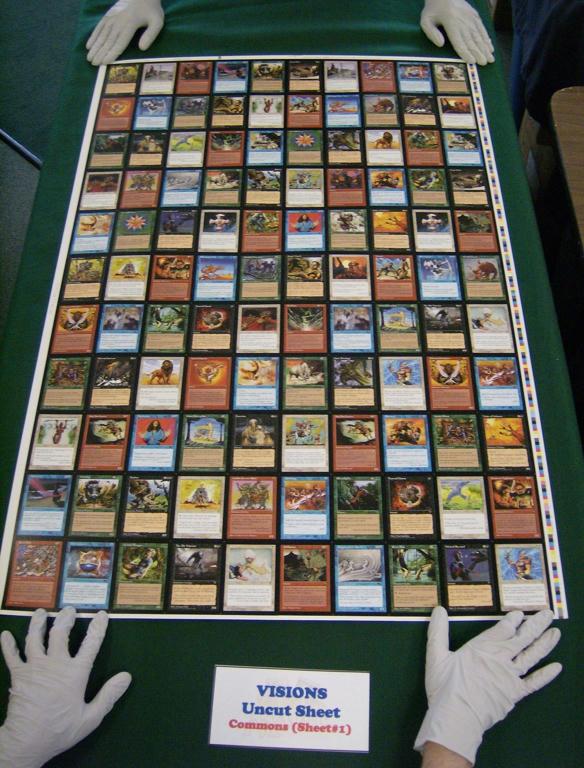 Uncommon Sheet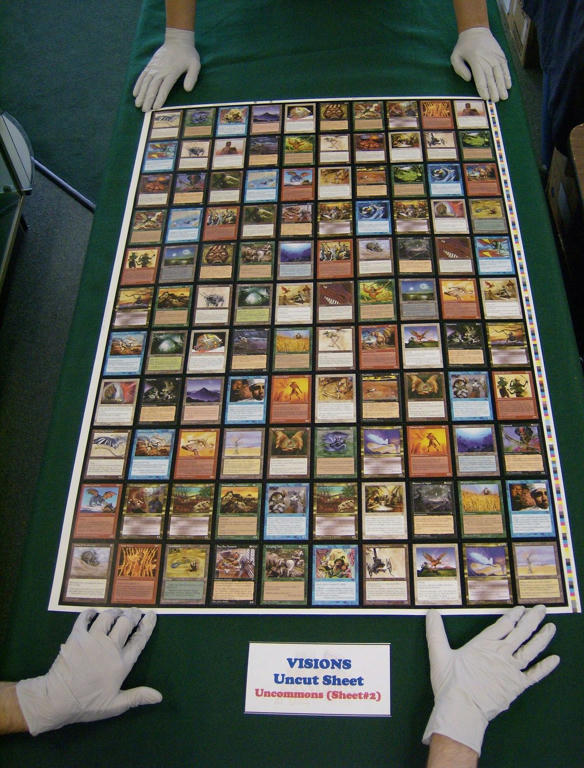 Rare / Common Sheet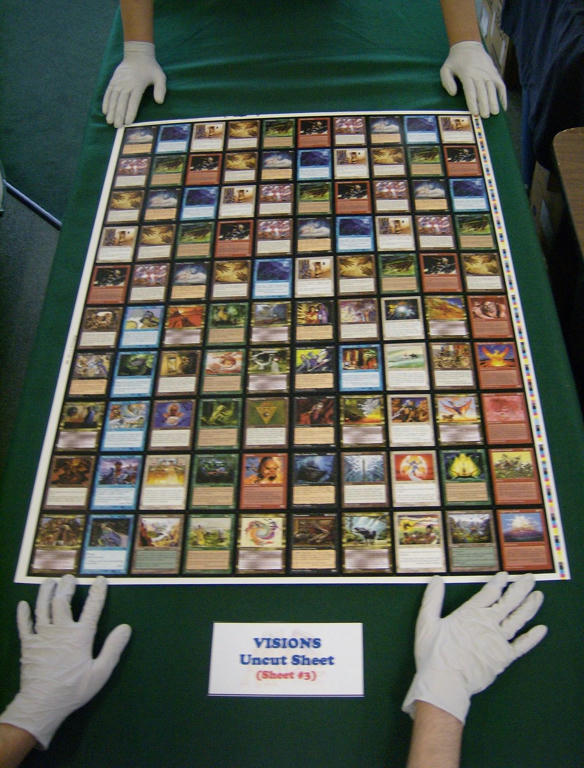 In addition to the regular production of Visions cards, there was a seperate (earlier) production of only 30 different cards for the Mulitverse Gift Box. Of those 30 cards, 10 of them were slightly different from the regular production Visions cards. (The main difference was the zoom level of the artwork, but there were some other differences with text alignment and capitalization.)
Because our Dark Visions list contains noticably more than 30 cards it's highly unlikely that the Multivers Gift Box cards have anything to do with Dark Visions.
Also, of the 10 Multiverse Visions cards which are different, only one of them is on our list of Dark Visions cards, and our Dark Visions version pictured below does Not have the Multiverse artwork variation.
It's practicaly guaranteed that you won't get any Dark Visions cards by opening up Multiverse Gift Boxes.
Next, let's have a look at the rarity breakdown of Visions. Visions has...
62 Commons
55 Uncommons
50 Rares
So how do they organize that into full sheets?
Well, the Uncommons are really easy. 55 Uncommons and each one is on the sheet twice = 110 cards which is a full sheet.
The Commons also have a sheet with 55 different cards, each one appearing twice = 110 cards. THAT LEAVES 7 COMMON CARDS NOT ON THIS SHEET.
The third sheet is a different size, it only holds 100 cards.
All 50 rares are on the bottom of this sheet, once each.
THE 7 COMMON CARDS THAT WERE NOT ON THE OTHER SHEET ARE ON THE SHEET WITH THE RARES. Each of those Commons appears on that sheet 7 times, with one of them appearing an 8th time. 50 + (7x7+1=50) = 100 cards which is a full sheet.
You can have a look at the sheets posted above to confirm this info is correct.
Visions came in booster packs of 11 Commons, 3 Uncommons, & 1 Rare.
The print run is estimated at 180 million cards.
If you like numbers, have fun with that info.
40 of the 50 Rares made it onto our Dark Visions list here and are pictured below. Comparing our list to the sheet, you can see that they are not all located together, but spread out across the portion of the sheet which contains Rares.
Of the 10 Rares which did not make it onto our Dark Visions list, most of them are harder to identify White & Blue cards.
It seems pretty clear the Dark Visions affected this entire sheet of cards.
So what about the Dark Visions Commons?
Is the entire common sheet available in Dark Visions?
Let's take a look at our sampling in this thread. Our list has 39 Rares and 5 Commons in Dark Visions.
Think about that a minute.
We know that there should be 7 different Commons available in Dark Visions because they are on the same sheet as the Rares.
If we had seen more than 7 Commons in our sampling, that might be a pretty good indicator that the Common sheet was also affected. We didn't.
In Visions there were 11 Commons printed for every Rare. Doesn't it seem like we should have seen more Dark Visions Commons if the full sheet of Commons had been affected? We should have at least seen some more variety, look at how many different Rares have been found.
We can't conclusively prove this one yet, but you have to ask yourself, What is more probable...
1. We've seen 5 of the 7 possible (71% of the) Dark Visions Commons and the other sheet of Commons was not affected. This is comparable to 39 of the 50 possible (78% of the) Dark Visions Rares that we've seen.
2. We've seen 5 of the 62 possible (8% of the) Dark Visions Commons. Both sheets with Commons were affected, but for unknown reasons our sampling turned up far less Commons than Rares.
If you're reading this, you're likely a Magic player and at least somewhat good with probability. Personally, I feel that # 1 is the correct choice. If anyone feels differently, I'd be happy to hear WHY. I'm open minded, and a healthy debate is good for everyone.
Let's have a closer look at those 7 Commons...
A close look at the uncut sheet reveals that the 7 Commons on that sheet are...
Keeper of Kookus (Red)
King Cheetah (Green)
Man-o'-War (Blue)
Phyrexian Walker (Artifact)
Resistance Fighter (White)
Sisay's Ring (Artifact)
Urborg Mindsucker (Black)
That's one card of each color, and two artifacts.
Now let's look at the Dark Visions Commons shown in this thread...
Goblin Swine-Rider (Red) (not on sheet picture)
Phyrexian Walker (Artifact) (on sheet picture)
Python (Black) (not on sheet picture)
Sisay's Ring (Artifact) (on sheet picture)
Warthog (Green) (not on sheet picture)
+ there should be two more Commons, probably White and Blue.
This would match the pattern of one card of each color and two artifacts. Also, it's likely for the missing cards to be White and Blue because those colors are the hardest Dark Visions cards to identify.
Well, if we can see the uncut sheet, and our Dark Visions cards aren't on it, that's pretty problematic for our theory right?
If the lists matched exactly, that would pretty much be case closed. Well, they don't match, so what does this mean?
Again, we have two possibilities...
1. same as mentioned above, We've seen 5 of the 62 possible (8% of the) Dark Visions Commons. Both sheets with Commons were affected, but for unknown reasons our sampling turned up far less Commons than Rares.
2. The full sheet pictured above wasn't the only possible sheet layout. The miscut collectors here have shown several times that 4th edition and Ice Age both have multiple sheet layouts printed in Belgium. Visions was printed in Belgium and in the USA. That's certainly not proof, but it's a definite possibility with precedent.
If this is the case, The cards can move around to different locations on the sheet, but they can't change how many of each rarity appears on each sheet because that would affect the ratio of Commons to Rares.
So which is the right answer? I think it's a close call. For the moment, you might have to decide for yourself.
I'm going with # 2, that only the one sheet was affected.
Here's what we need to see to help prove this one way or the other...
1. At least 3 more confirmed Dark Visions Commons, bringing our total to at least 8 known.
2. A picture of an uncut sheet that matches our Dark Visions card list.
The following Circumstantial evidence could also be helpfull...
1. Miscut Visions cards that prove a different sheet layout exists.
2. If the next Dark Visions Commons found are Not Blue or White.
Looking at the problem from the other direction for a minute...
If Keeper of Kookus (Red)
King Cheetah (Green)
Urborg Mindsucker (Black)
were on the Dark Visions sheet at a rate of 7 copies per 1 rare, Why don't we see ANY of them?
After all, these are the colors which are easier to identify.
The probable answer is that they weren't on the sheet.
If it makes any difference, I've seen the following quantities of the Dark Visions Commons during my 31 day sampling time. (The Sampling was a public request to post pics of Dark Visions cards. I used Facebook to reach a wider audience.)
Goblin Swine-Rider x2
Phyrexian Walker Lots
Python x1
Sisay's Ring Lots
Warthog Lots
(Lots means that I lost count because I wasn't trying to track quantities, but it's somewhere between 4 and 20.)
Tav