Copying and pasting from a writeup I did elsewhere.
Okay, a huge part of being involved with
test
prints
and rarities is the need to piece the game's history together based on known information and extrapolations. We already know about pre-Alpha playtest cards, and thanks to folk on the librarities site, we also know about Unlimited/Revised
test
prints
: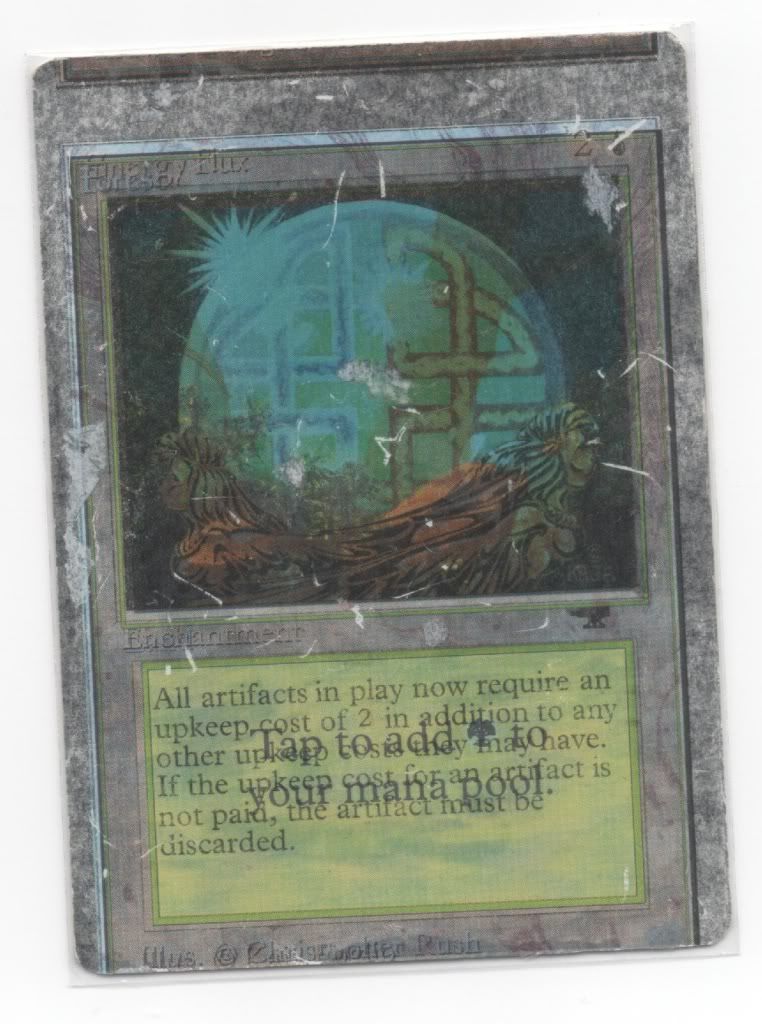 To diverge slightly, the story (from Ralph) was that Revised was supposed to be printed with grey borders to reduce cost, hence the grey bordered UNL printings on the back.
What we did not have, though, was any idea of what happened between UNL/Rev and Exodus, even though the transition from Revised through Summer through 4th (and one can throw alt 4th in here as well) was both chaotic and sloppy in terms of quality control standards and decisions. To briefly recap some of the transitional details, Unlimited had dark, rich colours. Revised was criticised for its washed out colours, the loss of the 3D bevelling as well as other errors, of which the Serendib Efreet is the most famous. The Summer strain of Revised was printed in, rather expectedly, the summer of 1994, and was itself a smorgasbord of errors -- the colours were too dark, and the errors which Revised suffered from were still an issue with Summer (Plateau artist, Serendib Efreet artist).
Two things happened -- 4th edition was in the works to fix the errors with revised, and foreign white bordered Revised (as the second printing, to follow the rule of first printings always being black bordered) was to be released. We previously knew little about the testing process.
All this changed a while ago, when these came out into the market after years of hibernation outside of everyone's knowledge. Do not ask where these came from or if there are scans of other cards -- that is not the point of this post.
Suddenly, we had something to work with, cards that are
test
prints
(it even says so on them!) and which resembled the problematic transitions above. To borrow (and paraphrase) from Britain's favourite fictional detective, the first thing we needed to do was to remove the impossible -- whichever was left, no matter how improbable, would be true. What we eliminated off the bat was:
1) These are UNL
test
prints
. This was done because we know what UNL/Rev (theoretically, Rev)
test
prints
look like from above, and simple induction means that as the game matured from UNL to Rev and onwards, prototypes improve with the times. Occam's Razor, and all that (even though Occam's Razor as devised by William of Ockham did not actually mean that). Let us make this acceptable conclusion that these have to post UNL due to the increased quality of the
test
prints
.
2) These are Rev
test
prints
. Again, highly unlikely as Rev
test
prints
already existed. This is further made clear as these cards all have the bevelled edge which Revised does not.
Note the bevelled edge on the Samite Healer above, where it is the most obvious.
Note also the picture below, which contains the textless
test
print, the "
test
printing"
test
print, a revised card and a 4th card.
I played around with the colours a little:
Note the textboxes, and that outside of colouring, the Revised textbox differs in its design. This is most obvious with the chinks at the bottom and left of the textbox.
We are left with Summer and 4th to place. Summer is an easier fit. The textless cards have the same colouring as summer, and the easy assumption is to fit them into summer, however unscientific that may be. Let us place 4th edition first, which helps with the placement of summer.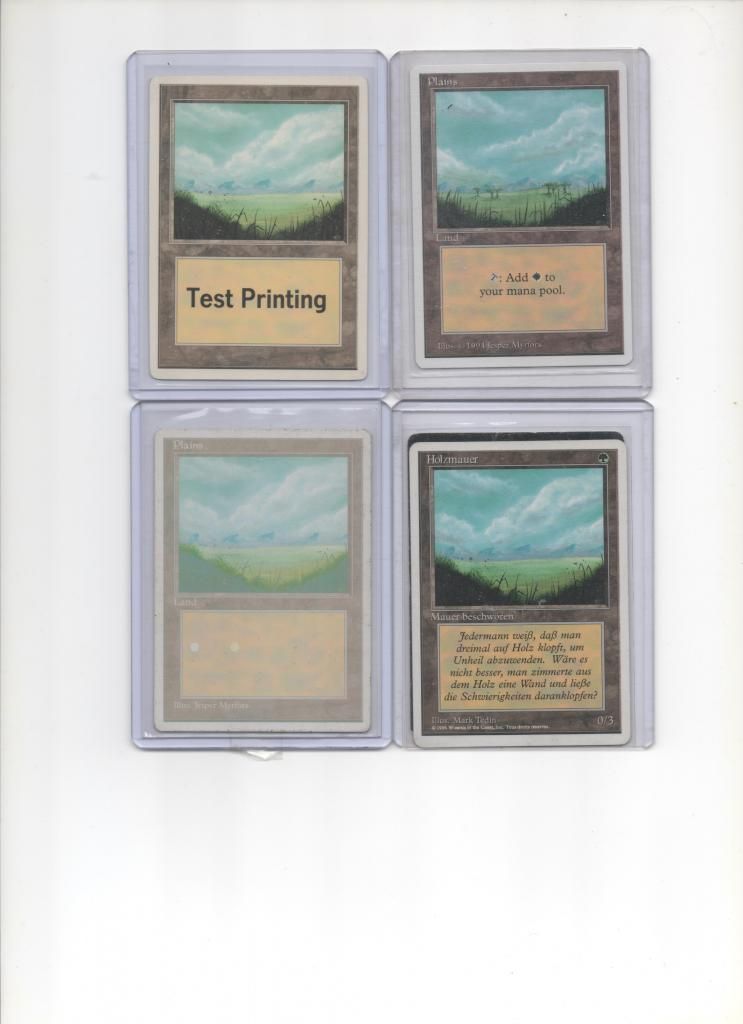 The picture above has a "
test
printing" plain, a Summer plain, a French/German
test
print plain/wall of wood and a textless 4th ed plain. In keeping with my membership on this group, the best statement I can make is that while I can scan all these cards, a 4th ed plain remains shockingly outside my grasp at the moment. Notice that:
1) The text boxes are all identical
2) They all have bevelled edges
3) The French/German plain is dated 1994, which makes it virtually impossible for it to be summer. Think back to the 8th ed
test
prints
with the double unglued symbols -- printed in 2001, released in 2003
4) The picture below shows that the French/German plain actually resembles summer (unfortunately, there is no textless plain handy) in terms of colour and textbox patterns
Additionally, both the "
test
printing" and French/German plains are printed on the same form of cardstock, and will both fail bend tests.
The conclusions that can be drawn from the above are:
1) The "
test
-printing" and French/German cards are not
test
prints
for the same sets.
2) The French/German plain looks to be templated off Summer, and is a
test
print for FWB printings. This makes sense because Summer templates would have been the defaults as FWB was designed in 1994, after Revised was already released and theoretically replaced by Summer.
3) The "
test
-printing" plain is a
test
print for 4th -- note that the colour patterns are lighter than Summer while darker than Revised, and that we have already eliminated Revised from being the set tested by these. These are likely early
test
prints
(no idea if there are strains like the Exodus ones) in which WOTC lightened the colours from Summer, but not to the extent that they were identical to what was eventually chosen as the template for 4th. Note that while it looks identical to the textless 4th ed plain, the latter is faded because of the inking issues it faced to make it textless.
That leaves us with the textless
test
prints
, and Summer. The conclusion I am pushing for is for these to be summer
test
prints
(and a picture comparing a textless print against a summer card will be uploaded soon) because:
1) UNL and Summer are the two darkest coloured sets which are white bordered
2) The textless cards being UNL
test
prints
is unlikely due to reasons already discussed above.
3) If we subscribe to the evolution of
test
prints
with age, "
test
printing" > textless > UNL/Rev triple
prints
. This makes it far easier to shoehorn the textless cards into summer, being sandwiched between Revised and 4th, for which we have already accounted for.
We still lack information on
test
prints
for the AQ-DK expansions outside of playtest cards, but if something ever comes up, we shall work on it. A lot of this isn't definitive outside of comparisons and induction, but if anything comes up to add to the information we have (new
test
prints
, information from WOTC employees), I will gladly edit this.
I hope that you found this information useful.