I'm looking to gather information here on the Italian Second Edition (Revised) cards with the BOLD Copyright.
I first heard them mentioned here...
http://www.magiclibrarities.net/forum/v ... php?t=2383
Here are some examples from that thread...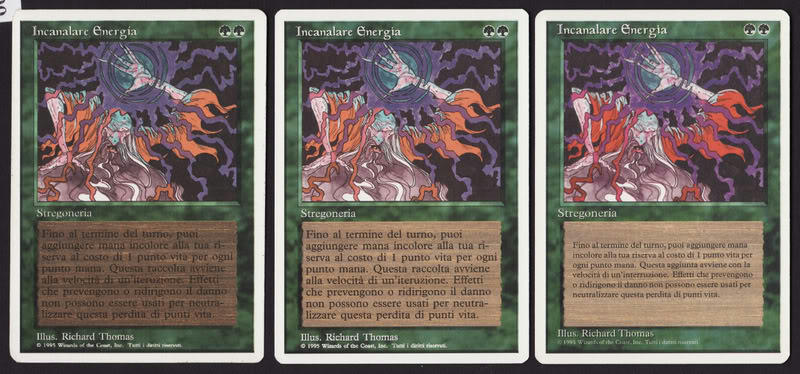 Left: slash on i, Revised text
Middle: dot on i, Revised text, bold copyright
Right: dot on i, 4th Edition text, normal copyright

close up of the Bold copyright as compared to a regular 4th Edition card.
Most Italian Second Edition cards have a regular copyright like the 4th Edition cards, but some of them have a Bold copyright.
The Bold copyright is not just heavy inking as the Bold causes the text to lengthen so that you can see the copyright line IS longer.
The Bold copyright cards seem to use the same text and alignment as Italian Second Edition cards.
Some of the Bold copyright cards use a dot over the lowercase i like 4th Edition. I personaly have a Bold copyright Library of Leng that uses a slash over the lowercase i like Italian Second Edition cards. I think this indicates that the Bold copyright printing was in between Italian Second Edition & Italian 4th Edition.
Commons and Uncommons have been shown to exist with the Bold copyright.
(update: Rares have been found also)
Possibly not connected, but the German/French test prints also appear to use a Bold copyright.
I am looking for some of these Bold copyright cards for my global sets. Are they hard to find? I have multiple of the Library of Leng so far and no others, but Italian cards aren't frequent here in the USA. Do all cards in the set exist with Bold copyright? Maybe we should make a list, what do you have?
Looking for more information and/or opinions.
Tav