I will completely agree with what Kieth said about these being press checks. I think these were created to test a machine, not to test the cards themselves. These should have been destroyed after the test was complete. There should be practically 0% chance of opening one of these in a pack. These would have to come from a WotC employee. As such, it is quite possible that the employee who saved these only saved the ones that they found interesting. This may mean that more copies of the German Uncommons were saved from destruction, with most of the "less interesting" Portuguese Commons being destroyed. The cards that happened to get Christopher Rush on both sides were probably sent to him as an interesting curiosity, not exactly an artist proof. The earliest these could have been made would be during the design finalization of Homelands, but it IS possible they are from after that and the Homelands files happened to be laying around when the machine needed testing. (side note: Homelands was the first set scheduled for simultaneous release in all languages.)
The only Portuguese double sided Homelands card we've seen so far could not have been created by printing a full sheet upside down on another sheet. It could have been created using the same process described above for the German Uncommons as a Row #1 / Row #5 combination. Assuming that this is what happened, Here are the card combinations that would have been printed. (All in Portuguese)
The Axis is row #3. These 5 cards were in the middle causing them to be printed with themselves on the back.
Dry Spell
Torture
Shrink
Memory Lapse
Mesa Falcon
Row #2 was printed with Row #4 upside down on the back.
Joven / Anaba Shaman
Abbey Matron / Hungry Mist
Serra Paladin / Clockwork Steed
Ambush Party / Anaba Bodyguard
Serra Bestiary / Labyrinth Minotaur
Row #1 was printed with Row #5 upside down on the back.
Carapace / Trade Caravan
Cemetery Gate / Sengir Bats
Dark Maze / Reef Pirates
Carapace / Torture
Cemetery Gate / Aliban's Tower (only Portuguese card we've seen so far)
Here is a picture of the top left quadrant of a Homelands Common sheet. I cropped off the rest of the sheet to help you visualize how these cards were printed. Sorry for the poor picture quality.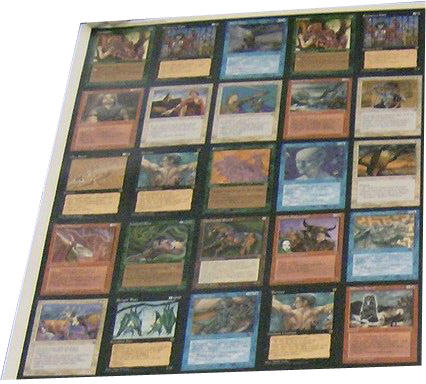 As far as quantity, all we know is that we have multiples of the German Uncommons and only one Portuguese Common. Maybe the "less interesting" Commons were destroyed, or maybe less were actually printed, or maybe they are yet to be discovered?
Tav