Equipped with my full set of Italian FWB from booster packs, I knew that I could proceed to solve this mystery by acquiring cards from Italian FWB starter decks for comparison.
Some time back, Open Boosters was opening Italian FWB starter decks on his YouTube channel. When I was visiting him at his house, I inquired about these decks he had recently opened, and asked if I could borrow them for comparison. He had removed the dual lands, but all the other cards were placed back inside their starter deck boxes. I borrowed 5 Italian FWB starter decks from him for this project, which provided about half of a complete set. This was a good portion of the set, and multiple copies of many of the cards, so if there were any additional card corrections to be found beyond just the green cards with bold copyright, I hoped this would be sufficient to provide a clue.
Of the bold copyright cards, these starter decks included...
Channel & War Mammoth
We already knew of corrections on these green cards, but now I have good comparison scans.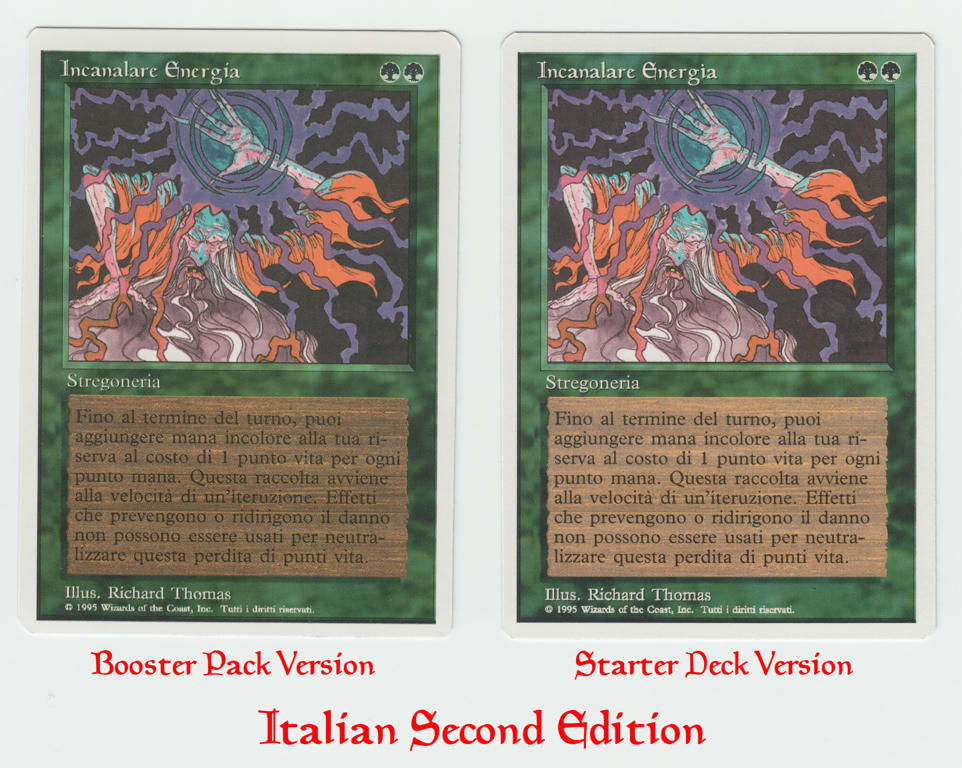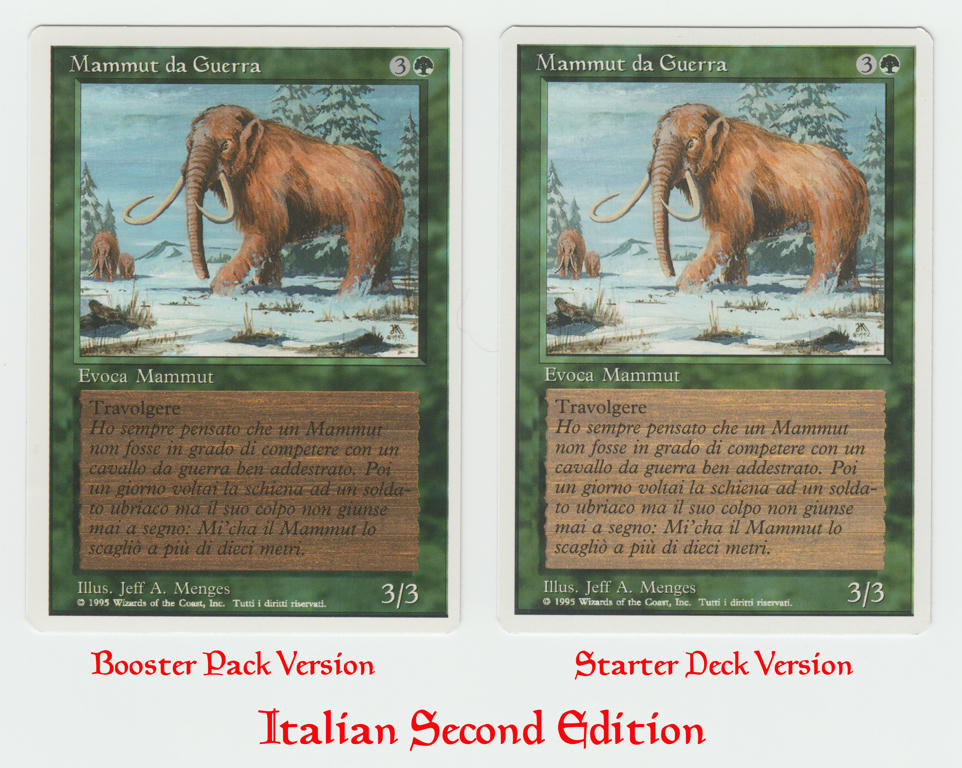 Library of Leng
Juggernaught
Drain Life
Phantom Monster
Power Leak
Mesa Pegasus
Other than some typical minor print variation of the color saturation, there are no differences found between the booster version and starter version of non-green cards.
One of the obvious features of the green cards being modified is the change of the card name font, to the lowercase i with the dot instead of the slash.
The non-green cards don't exhibit this, or any other changes that I could tell, and I did look closely, including with a loupe.
Keep in mind that I didn't get to compare every bold copyright card, because the starter deck cards were not a complete set, but I did get to at least compare a bold copyright card of every color except red.
Since every green card with a bold copyright received corrections, seeing the other colors not receive corrections implies that none of the bold copyright cards in those colors received corrections.
I'll keep my eyes open for more Italian FWB starter decks to continue this research, but at this point in time, I don't expect to find any other cards with differences between the booster packs and starter decks.
Here are comparison scans of the cards for posterity.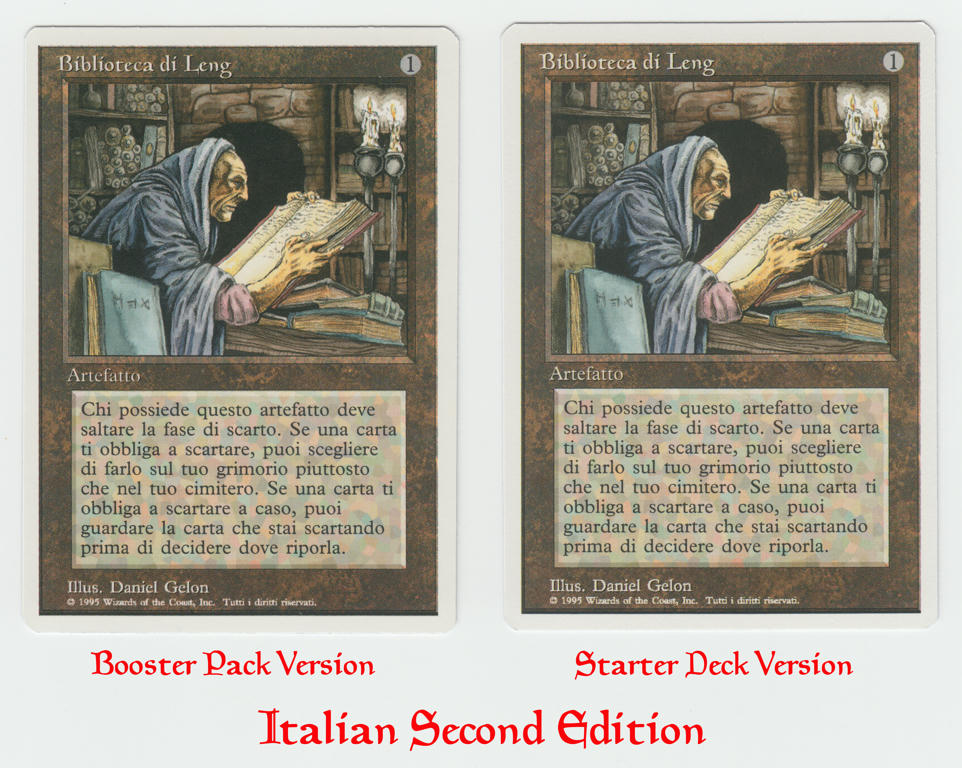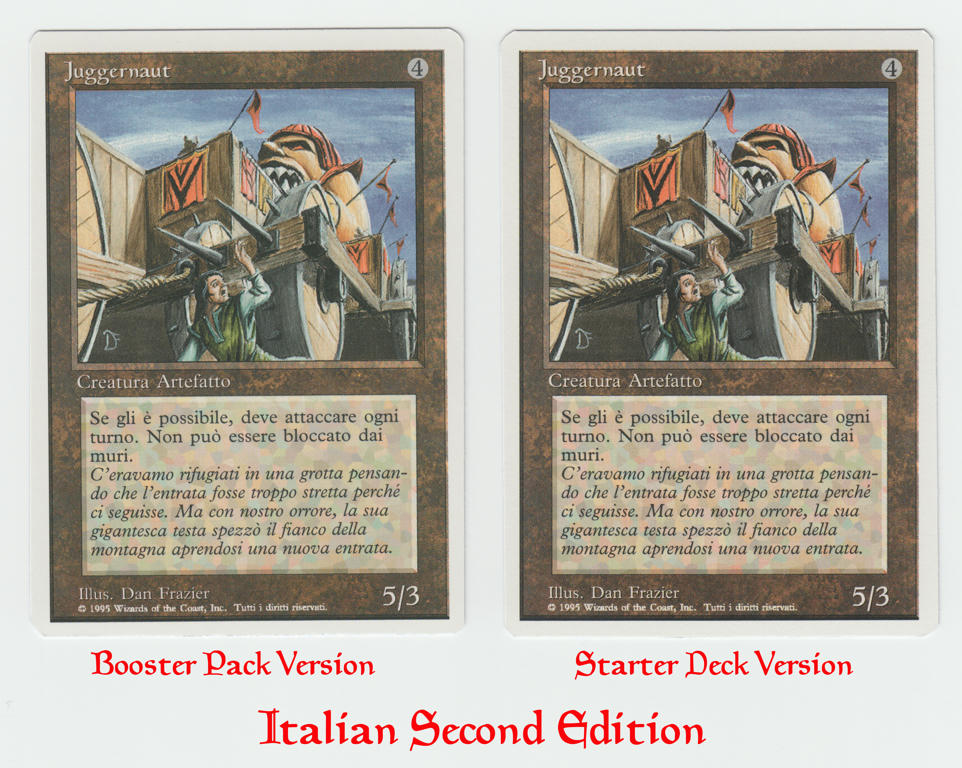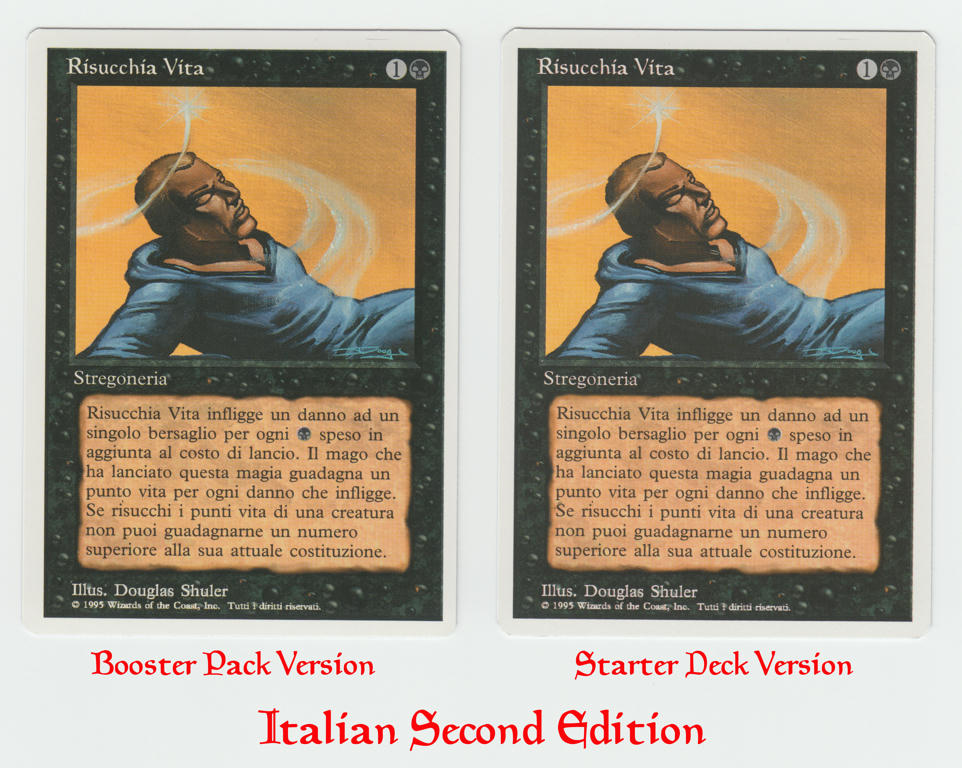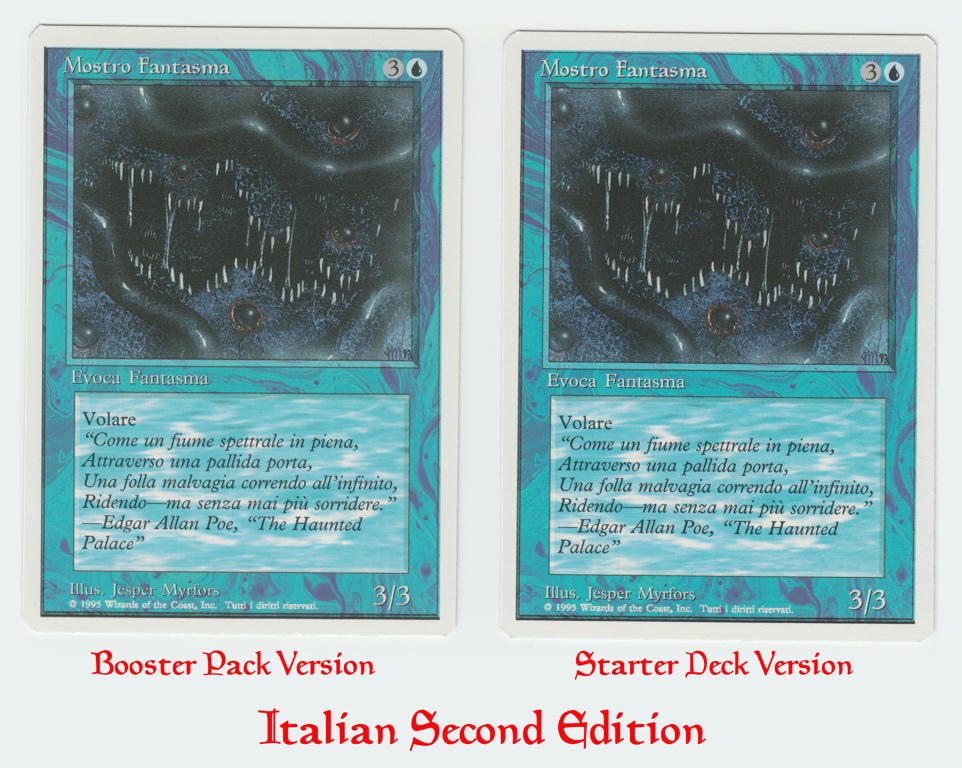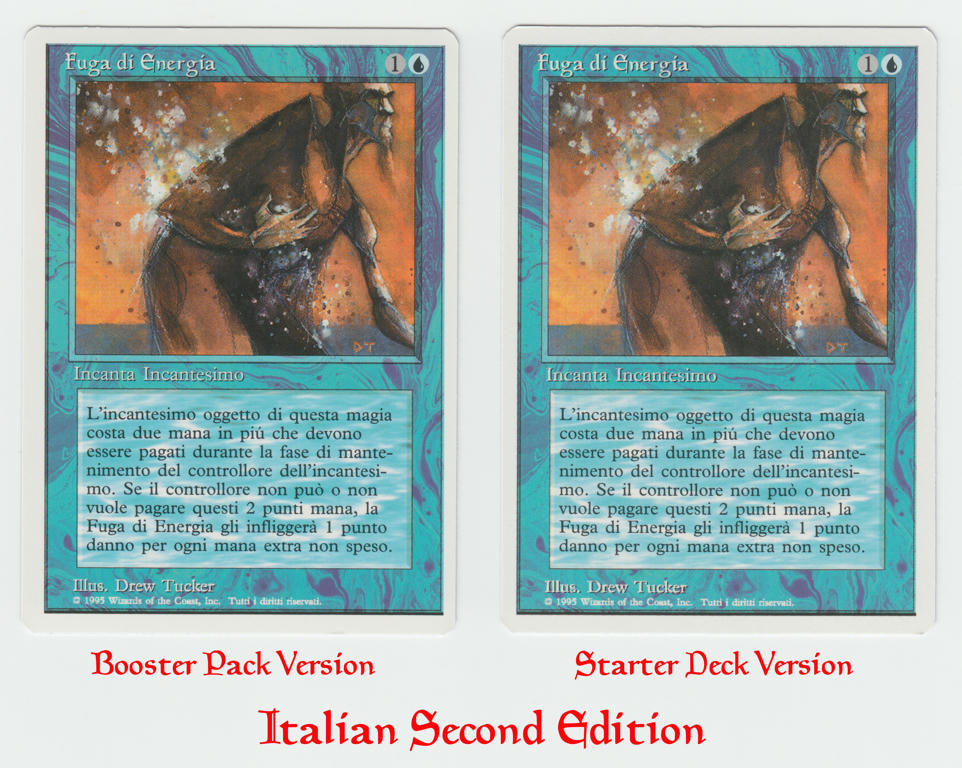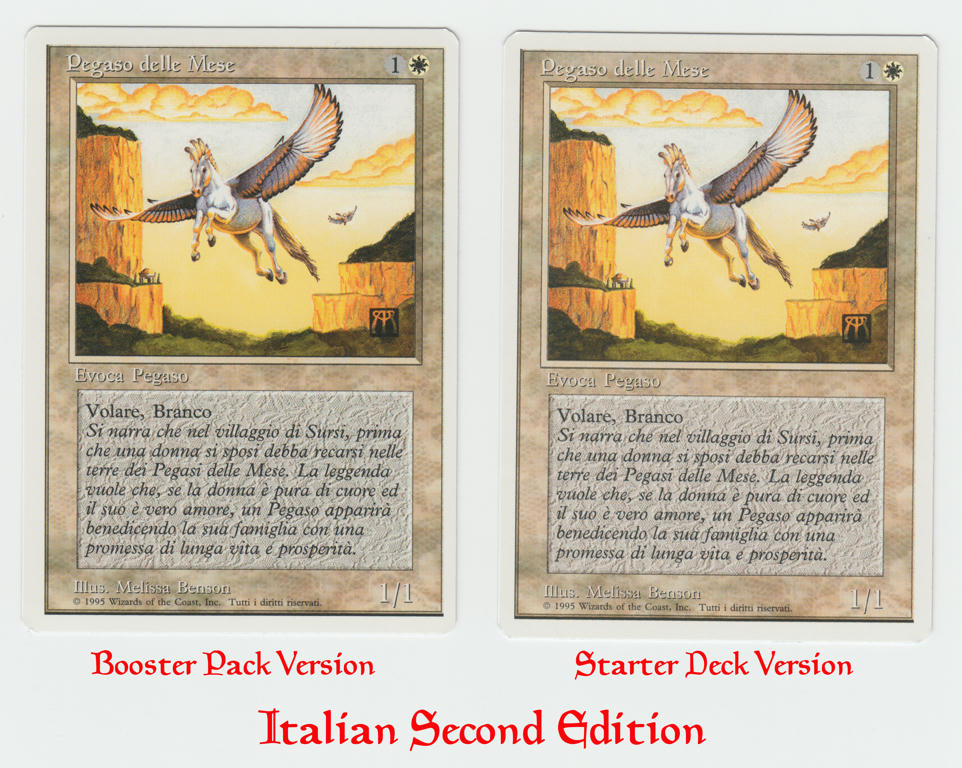 I also checked the cards without a bold copyright for differences.
I did not find any other cards with a card name font change, or any other differences beyond some typical minor print variation of the color saturation, nothing extreme at all.
Having basically complete starter decks along with video of their opening, allows me to take a more in depth look at the basic lands which appeared on the sheet multiple times.
I did find that Plains without trees exists with and without the rightward shifted artist credit/copyright line. The rightward shifted version should be added to the list with Mesa Pegasus & Personal Incarnation.
I suspect that this is version is present in both boosters and starters, but I only have one copy with this artwork from booster packs, and mine is the regular version. Maybe I can contact my friend who opened them from the booster packs, and see if the spare cards are still stored inside the booster box where they could be checked.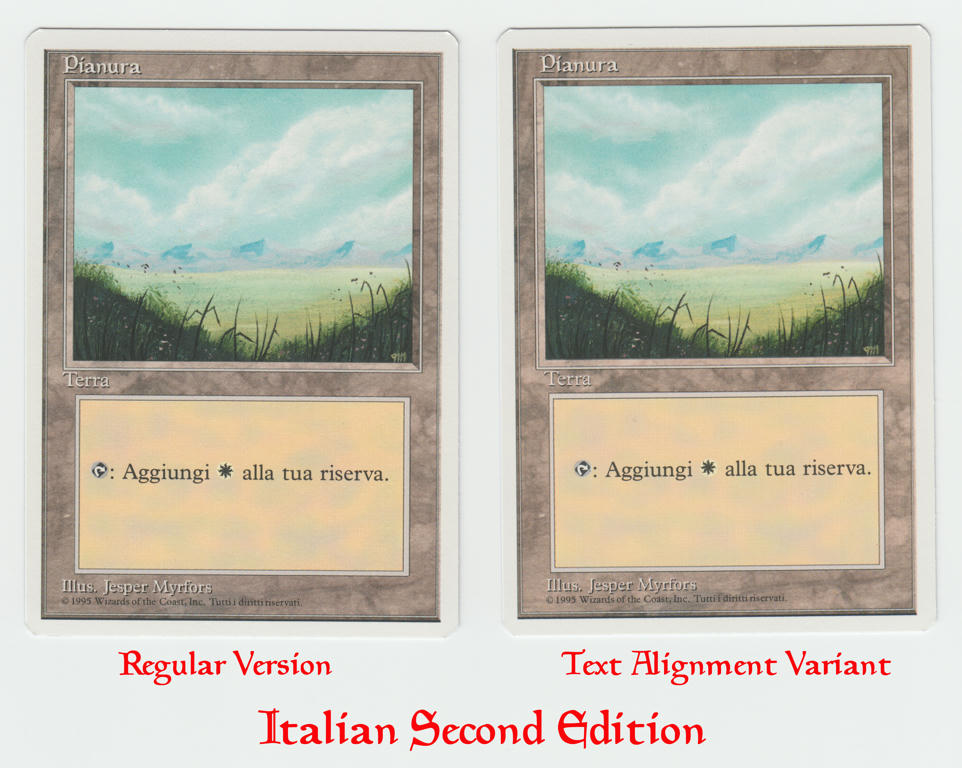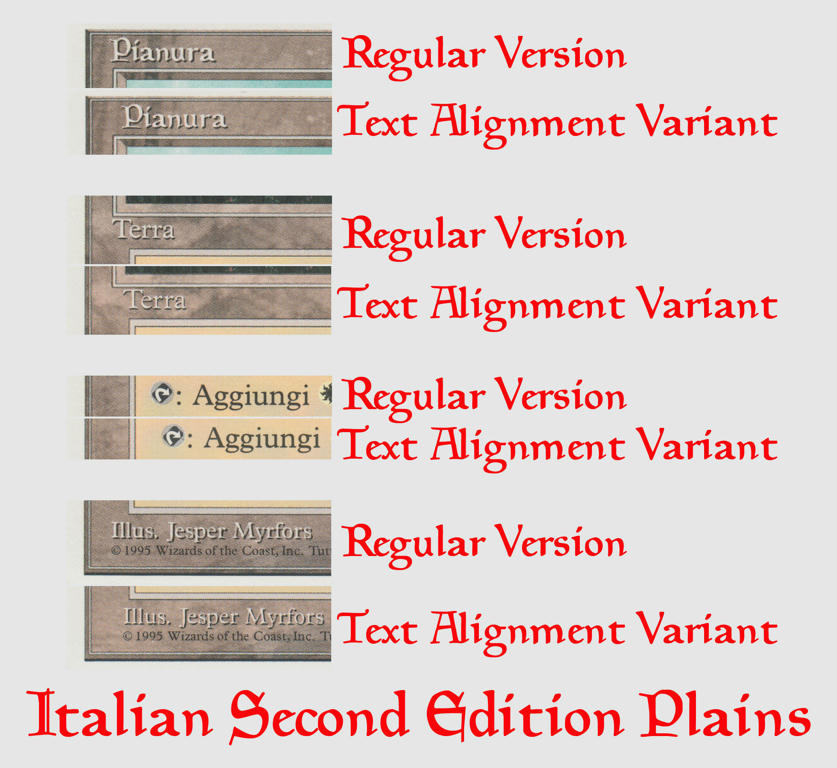 The following picture shows the sheet and location of the variant Plains.